The difference between a home studio production and a recording studio production can make all the difference in how the listener perceives what it is you're saying.  Like so many other things, it's the first impression that could make or break what it is you're trying to convey.  Not everyone is an Adam Corolla or Trevor Noah.  Not everyone can create a Ted Talk like show.  But a financial firm trying to recruit new opportunities or maintain existing relationships can't afford to sound less than professional.  A non-profit looking to tell their story for potential donors has to establish that relationship quickly.  A motivational or self-help program would lose credibility (and listeners) if the production was less than competitive.  Wouldn't you agree?
At "Hear Me Now Studio" you'll find quality, state of the art spoken word audio production. Our team has been producing audio content for over 30 years and spans a spectrum of ages to best fit the requirement of the intended listener.  We get it.  We know audio and spoken word content.  We like to wordsmith as we work with clients to help them get their message across.  Spoken word audio is what we do.  We're not a music recording studio.
Podcasts and long form shows are our specialties but standard commercial production is also something we do.  From voice work to full production of any length, complete with structure, effects and even custom jingle music, we help you create audio in a production that attracts and keeps the listener listening to your message.  Attracting listeners.  Yep, that's what it's all about after all, isn't it?
Helping craft the message, helping direct the speaking, helping complete the production, it's all a part of the process to a more creative and compelling outcome. We look forward to helping you tell your story to meet your goals and deliver a product we're all proud of.
We know that you can do this at home.  And some of what you do at home is going to be great.  But, unless you choose to make the time for the production, it's tough to get it all right and can be very time consuming as well.  Let us help.  We can take your raw audio and turn it into the production you imagined it would be.  Additional voices, sound effects, background music, we can do it all.  More often than not, we can make technical or structural recommendations to improve the quality of your message and make it more compelling to listen to on the other end.
Need to host guests for your audio production?  Not a problem, at "Hear Me Now Studio" we've got the ability to have multiple people on mics.  Hey, it may get a little cozy but at least you know the production is going to come out sounding better than if you did it in the kitchen of your home. Isn't your spoken word product worth that little extra if what you and your guests have to say is really that important?  We sure think so!  Then again, we're also presenting our studio and team here so yeah, we're a bit biased.
Ok, you're actually pretty sophisticated and you get guests from out of market or those who are unable to make it into the studio.  Awesome! Let's patch 'em in with a Skype or Zoom call and let everyone communicate as if they were in the room together.
We know things don't always go as you may have hoped. With our experience we know a thing or two because we've seen a thing or two. We've likely heard that issue before.  When it comes to helping you build a longer podcast or long form show, our history and background in radio make all the difference in a program that has structure and is built technically sound vs something with a great idea conveyed poorly.
Schedule some time with us. See if you and your followers don't agree your product is better with our help and support.  If you're new to the game, you've absolutely come to the right place. Let our team help you and/or your team create something that is sustainable, listenable, entertaining and informative. If you're a seasoned vet, let's see if we can help take you to the next level with some outside production help. It may only take a little tweak here and there to create a better sounding product that gets more results.
Studio Rental Rates:
Hear Me Now Studio Hourly Rates
Includes Board Operator/Producer
Single hour

3 hour session
4 hours or more
$150/hr
$130/hr
$120/hr
Additional :15 min increments
Single hour
3 hour session
4 hours or more
$50
$40
$30
Subscription pricing
Single Hour Session
2x/mo
4x/mo
8x/mo
$250
$450
$800
* Session is consecutive hours.
All other studio/production options available upon request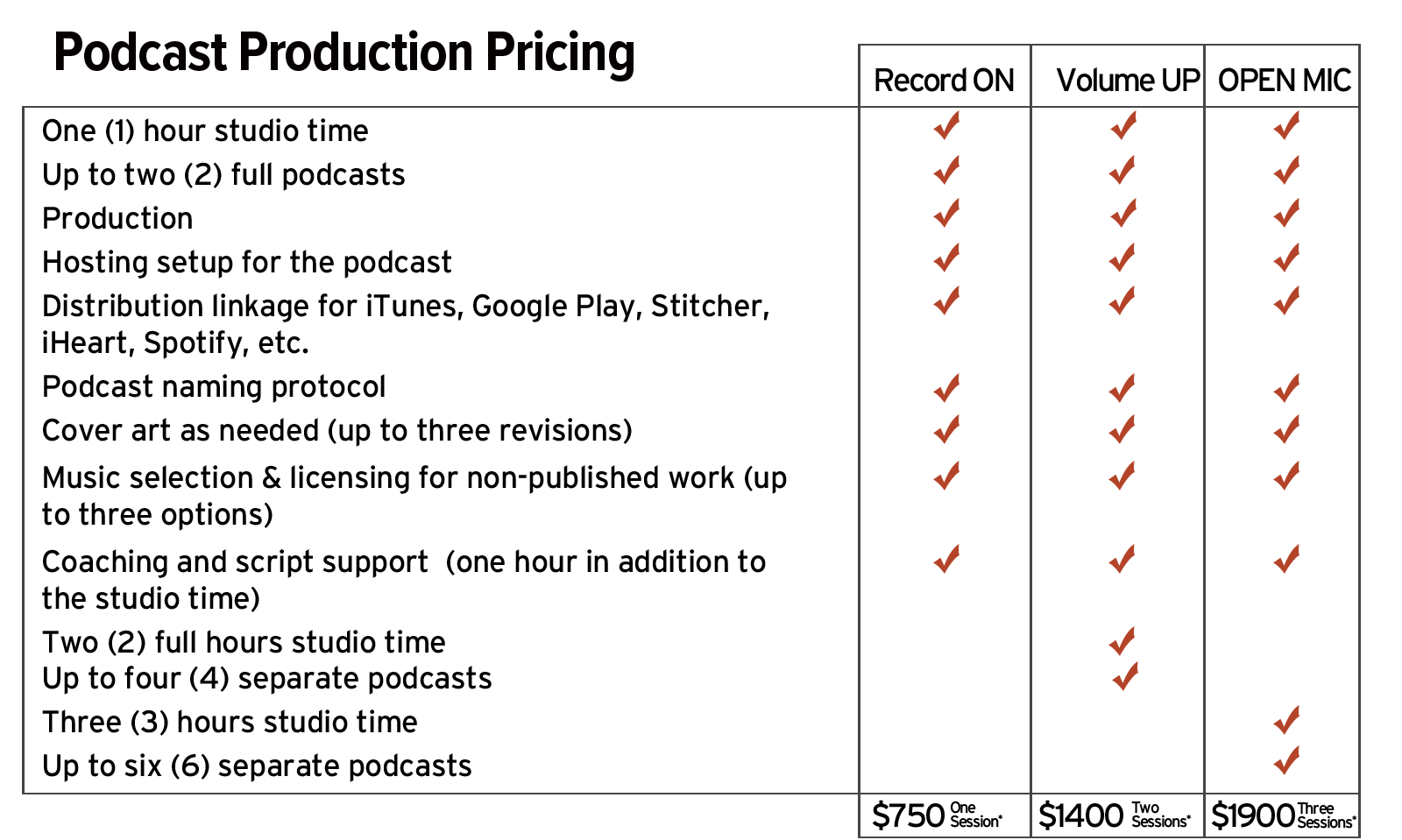 *additional support is available for scripting, web support, strategic consultation and scope of service additions.
**all options require 3-month minimum commitment. One month/one-time pricing available upon request.
Interested in renting our studio?
Please contact us!